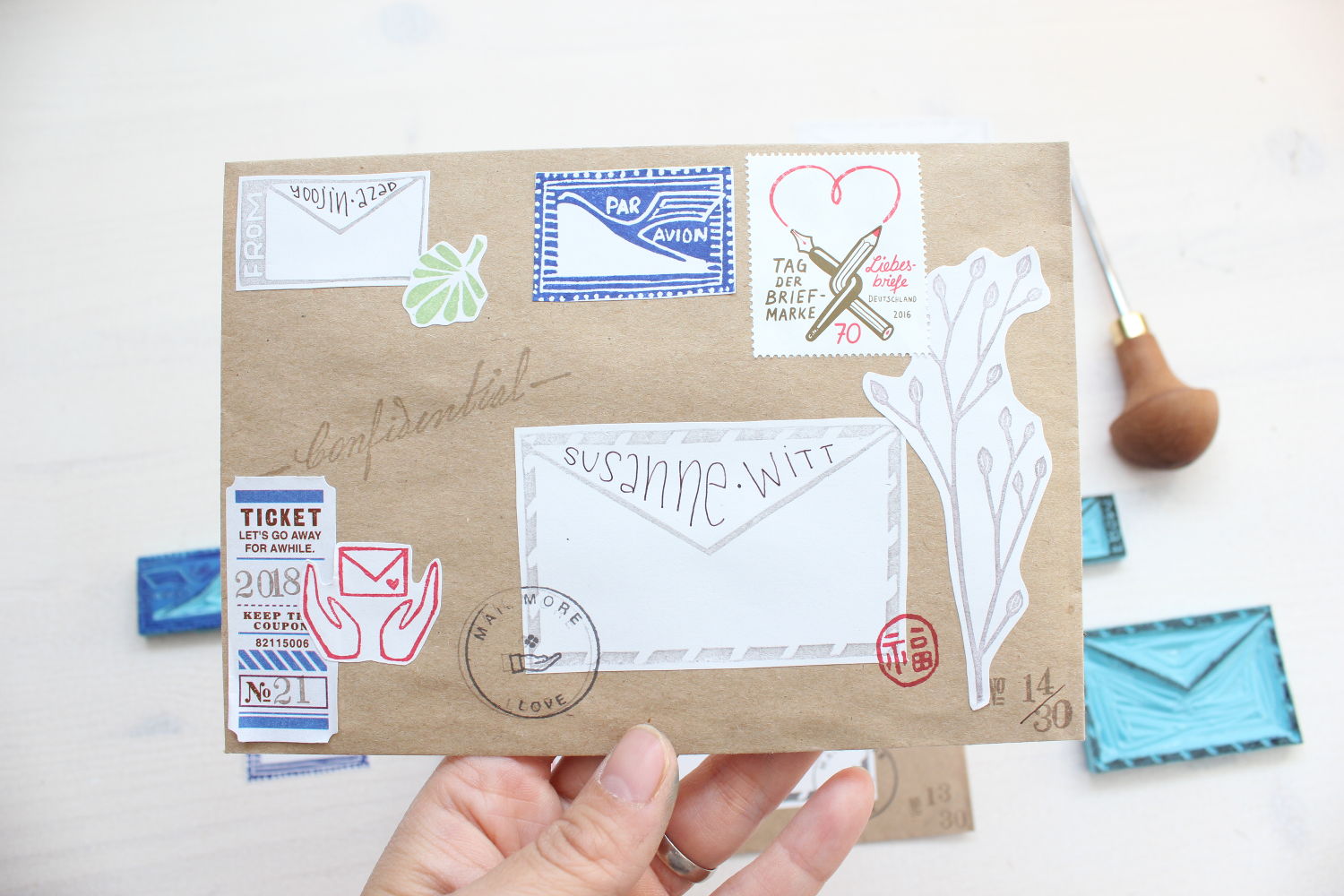 Diese Woche wollte ich mich eigentlich dem Nachholen meines Journals widmen. Aber irgendwie bin ich da zurzeit völlig raus. Und die Große war fast die ganze Woche krank, da hatte ich keinen Kopf für etwas, was zurzeit gar nicht funktioniert.
Zudem macht mir meine 30 Tage Briefe Challenge so viel Spaß, dass ich meine freie Zeit nur darauf verwende. Auf Instagram könnt ihr meinen Fortschritt bei der Challenge mitverfolgen. : )
Stempel für Briefe
Diese Woche habe ich Adressfeld-Stempel für die Umschläge geschnitzt. Umschläge verzieren funktioniert bei mir nämlich manchmal ganz gut, manchmal aber auch überhaupt nicht. Und gerade auf braunen Kraft-Umschlägen finde ich den Kontrast zu naturweiß sehr schön. : ) Und ich mache auch einfach sehr gerne eigene Sticker aus recyceltem selbstklebendem Umweltpapier.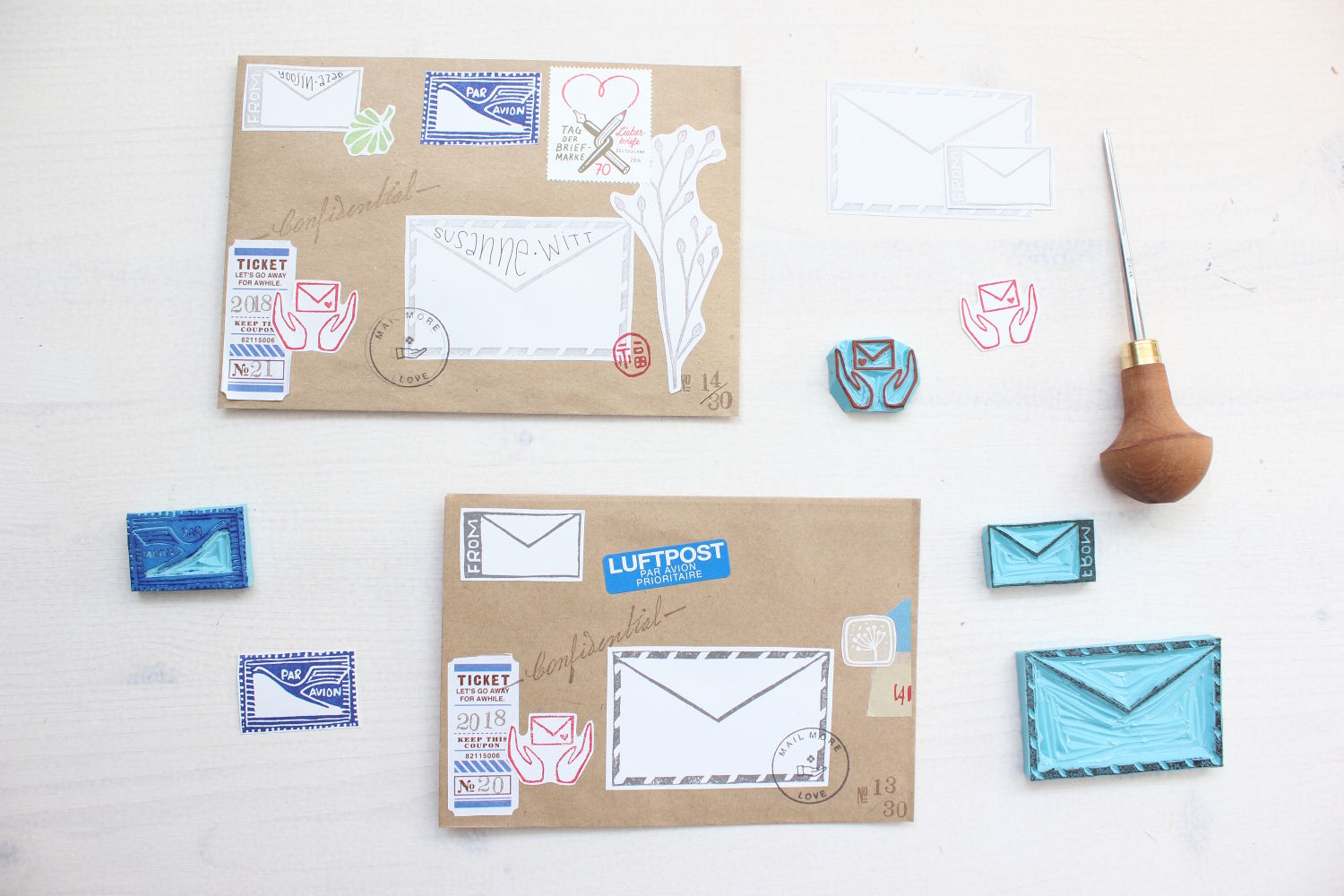 Ohne all zu viel Schnickschnack funktionieren die Umschläge doch ganz gut, oder? : ) Inspiriert wurde der Adressstempel durch einen Umschlag von Aylin.
Ein weiterer Stempel ist der Hände-Stempel mit dem Briefumschlag. Diese Hände werden sehr häufig für "Fragile – Handle with care"-Sticker verwendet, um zu symbolisieren, dass man schön behutsam mit dem Päckchen umgehen soll. Von Baum-Kuchen gab es auch mal tolle Sticker dazu. Ich habe sie vor Ewigkeiten gekauft, aber bislang nie verwendet, weil ich sie zu schön finde. Ja, das ist auch so eine Krankheit von mir: Das Horten von Schreibwaren, die zu schön zum verwenden sind. ; )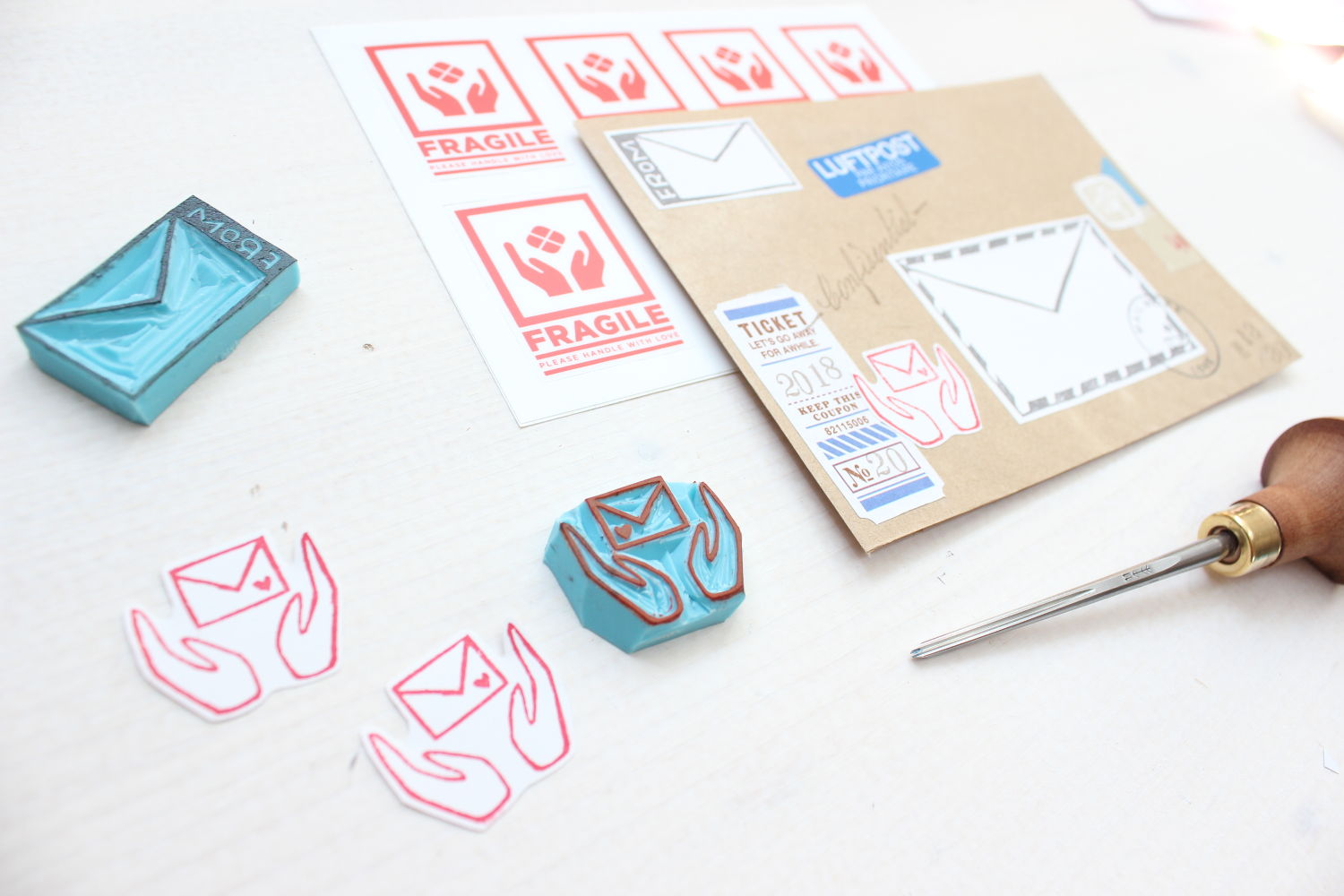 Den letzte Stempel habe ich heute geschnitzt. Ich habe mir aus meiner Vintage Luftpost-Marken-Sammlung einen ausgesucht und ihn nachgeschnitzt. Ich liebe übrigens (Vintage) Air Mail Marken…falls jemand tauschen möchte. ; )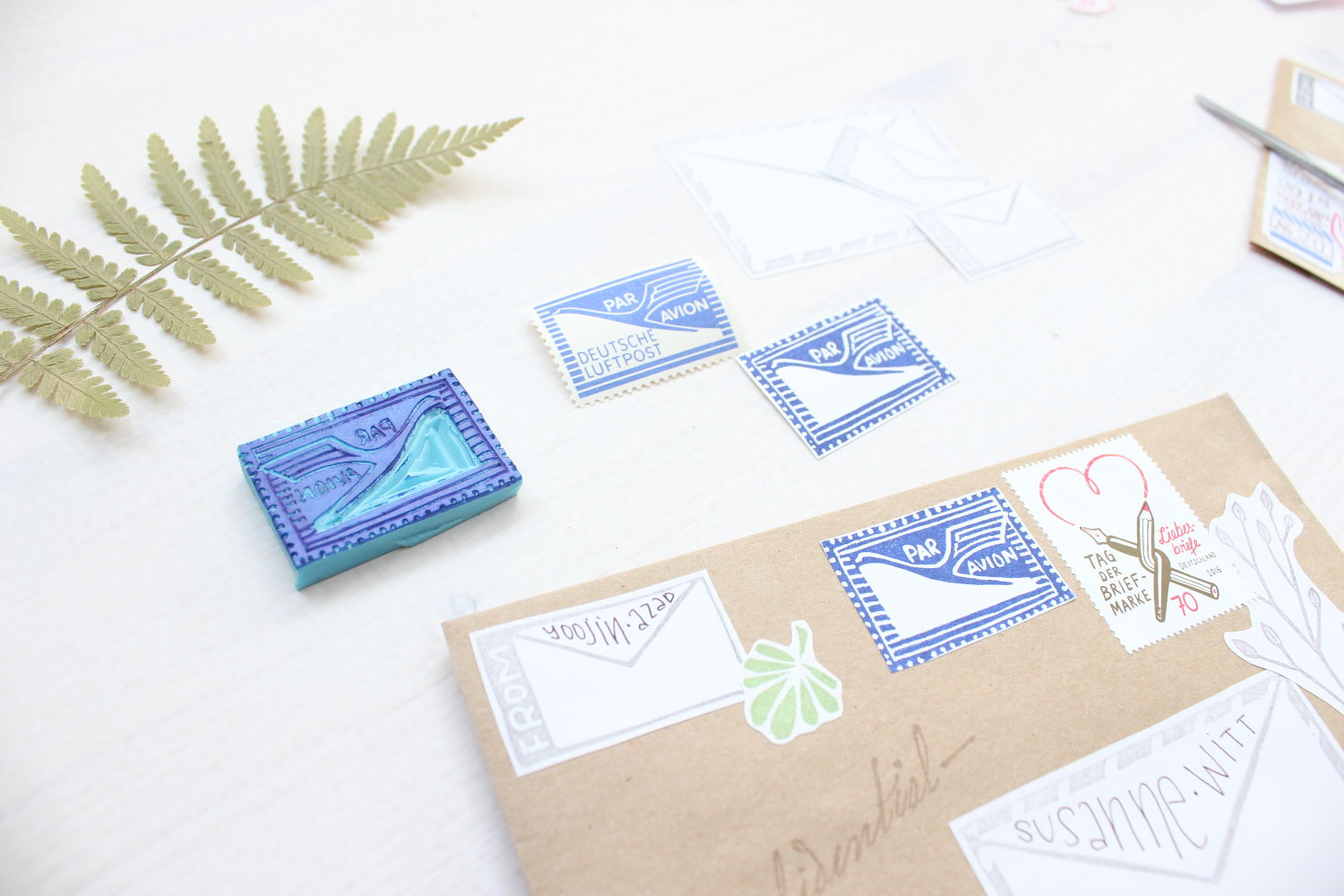 Wie verziert ihr eure Briefumschläge? Freue mich immer über neue Ideen und Tipps. : )
Wünsche euch allen ein wunderschönes sonniges Wochenende!
Eure,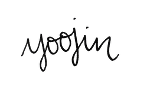 Summary:
My plan for this week was to catch up with my journal. But to be honest I had no motivation at all to journal this week. Moreover, our big daughter was sick and it just didn't work.
Besides, currently I'm having so much fun with the 30 letters a month challenge. As soon as I have spare time, I use it to write and create letters. : ) You can follow my progress on Instagram if you like to. : )
Snail mail stamps
This week I carved some snail mail related stamps. I'm not that good in decorating envelopes. Sometimes they turn out nice, sometimes they don't. Using the new stamps I printed envelope stickers. I like the contrast between the white stickers and the kraft envelopes. : ) And I love printing my own stickers on recycled adhesive paper.
Without too many decorating elements the envelopes already look kind of neat, don't you think? The stamps were inspired by one of Aylin's envelopes by the way. : )
Another stamp I've carved are the hands holding a letter. The hands are often used on "Fragile – Handle with care" labels. I've purchased beautiful stickers from Baum-Kuchen a while ago. But never used them, as I want to spare them. Yes, I have a problem with using pretty stationery. It's a sickness. ; )
For the last stamp I chose one label from my vintage air mail label collection. I looove (vintage) air mail labels by the way. Just in case you want to swap. ; )
How do you like to decorate your envelopes? I'd love to hear new ideas. : )
Wish you a lovely sunny weekend!